A while back I entered a contest that Mel from
Mel in a Nutshell
was doing to help her build traffic to her site and I was her random winner of $50.00. I can really use the extra money especially this time of year with the added cost of Christmas shopping but it will have to go towards the shipping cost on another contest that I've won recently...yep a whopping $70 for the duty because the contest was in the US....I hope it's worth it...I will post about that contest later!
I have been really enjoying visiting Mel's blog and getting to more about her. She has a great blog, you should see it for yourself, stop by and say hello! You are sure to meet a great friend, I know I have.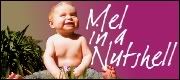 Thank you so much Mel! Happy Holidays !